Major Artists Add Their Style to Kanye's Album Art
If you know anything about Artsnapper, you should know that we recognize that great art is not always hidden away in museums and galleries. I'm sure you walk by great street art every day (especially if you live in the LES or Williamsburg), and I'm doubly sure that you have seen album covers in your life. Musicians have a history of enlisting the help of established artists to create memorable, eye-catching album covers, and that history is not over. You might think that in the age of online piracy and streaming, album art isn't as important—Kanye West apparently didn't get the memo.
For his recently-released (and utterly amazing) sixth album Yeezus, Kanye echoed the relatively minimalistic style of the tracks in the album art: a simple piece of red tape closed around the right edge of the CD case. Genius as it is, Kanye's choice of "art" this time around is a departure from his previous albums.

With the release of his first studio album, The College Dropout, in 2004, Kanye introduced the iconic Dropout Bear mascot that would grace the covers of his albums until 2008. The College Dropout features Dropout Bear encircled by a gilded and ornamented frame, a clear homage to Kanye's respect for the visual arts (Kanye actually attended the American Academy of Art until he realized he would never be the best visual artist to ever live, which obviously wouldn't work for him). In 2005, Dropout Bear returned on the cover of Late Registration in a drastically different art style under the combined direction of Kanye himself and Brooklyn-based design group Morning Breath, Inc. Although the cover contains no explicit reference to Kanye's love for art, he has cited the paintings of John Currin, one of his favorite artists, as the inspiration for Late Registration's album art.

The last appearance of Dropout Bear came in 2007, but he went out in a big way. By this point, Kanye was a household name, which made it possible for him to team up with internationally-acclaimed Japanese pop-artist Takashi Murakami, famous pioneer of the "superflat" movement, for his album Graduation. This was essentially a huge slap in the face to those who criticized Kanye's dream of bringing the opposing worlds of high art and hip-hop together, and Kanye's increasing fame only allowed him to further pursue that goal.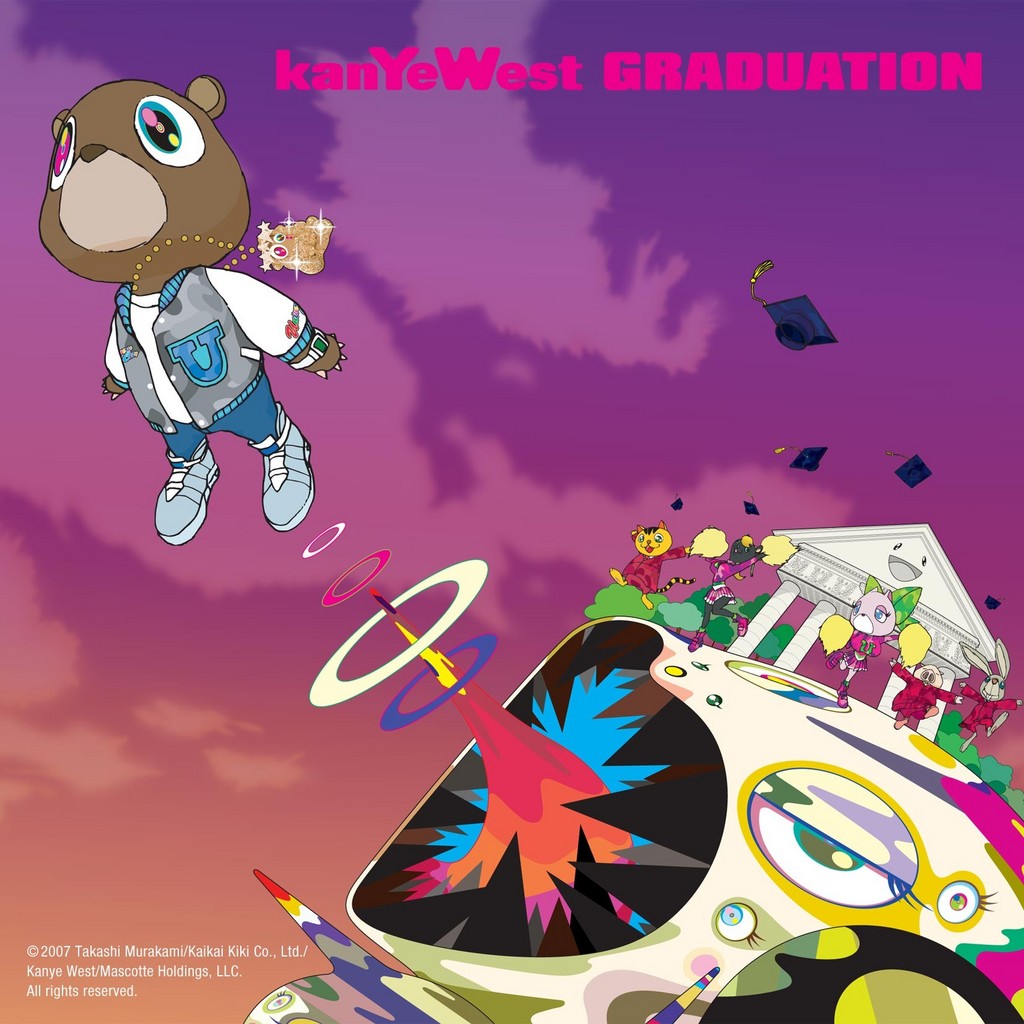 In 2008, Kanye recruited another huge name in the art world to create the album art for the deluxe edition of his fourth studio album, 808s and Heartbreak: New York-based street artist Brian Donnelly, better known as KAWS. If you consider the importance of street art to the larger art world, Kanye's critics seem even more out-of-touch. Street artists have been adding art and elegance to the urban world since way before Kanye was even born, so critics really shouldn't be so…critical.
If there's anything Kanye likes more than art, it's probably a little controversy (and definitely himself). Kanye's 2010 album, My Beautiful Dark Twisted Fantasy, featured art by the legend himself, George Condo, the third major artist in a row to work on Kanye's cover art. A month before the album was released, Kanye tweeted that some retailers refused to display or even sell the album because of its cover art. Condo's controversial cover was revealed to be a portrait of a nude, grinning Kanye being straddled by an armless, winged woman. Personally, I think the cover is great, but I guess I shouldn't be surprised by retailers' reactions. Moralistic Wal-Mart America needs everything to be sterile, clean, and friendly; Kanye, Condo, and I obviously don't fit in, but I know two of us are laughing and stacking millions.
The Velvet Underground had Andy Warhol, The Talking Heads had Howard Finster, and now Kanye has some of the most famous contemporary artists working on his albums. I think that the cover art for Yeezus is something that will be remembered for a long time simply because it's something that has never been done, but what about Dropout Bear? Will the cover for My Beautiful Dark Twisted Fantasy be remembered because it's a truly great piece of art by a famous artist, or will people just remember it for the controversy? Maybe it's both, maybe it doesn't even matter, but I have a feeling that at least one of Kanye's album covers is going to go down in history.
Share With Your Friends: