Since I know you couldn't get enough of my last list of terms to help you talk about art, I decided to put together another. Here's a new batch of words to help you elucidate esoteric friezes, frottages, and assemblages. You know, to help you talk about art and sound smart!
 Terms to Help You Talk About
1. Aesthetic (aes-THET-ic)
Definition: Related to the beauty, emotion, or philosophy behind something visual
In a Sentence: "Banksy's street art has a gritty, punk-like aesthetic"
Artist: Banksy
Title: Flower Thrower
Movement: Street Art
Location: The streets
2. Avant-garde (AHV-ahnt-GUARD)
Definition: Something revolutionary, experimental, or outside the norm
In a Sentence: "Picasso's Cubist works were super avant-garde in his day"
Artist: Pablo Picasso
Title: Girl with Mandolin
Movement: Cubist
Location: Museum of Modern Art, New York
3. Bourgeois (boorzh-WAH)
Definition: A name for the working middle class, often used in a derogatory manner to show lack of knowledge or "ruining" of art.
In a Sentence: "She bought a Starry Night umbrella? That is so bourgeois"
Artist: Vincent Van Gogh
Title: Starry Night
Movement: Post Impressionist
Location: Museum of Modern Art, New York
4. Combine (COM-bine)
Definition: A work of art containing several different components and mediums
In a Sentence: "I spy a newspaper, a photograph, and a piece of fabric in that Rauschenberg combine"
 Artist: Robert Rauschenberg
Title: Minutiae
Movement: Neo Dada
Location: Private Collection, Switzerland
5. Composition (com-poh-ZIH-shun)
Definition: An assembly of items, method of arrangement, or a work of art in general
In a Sentence: "Brueghel's busy compositions of crowds include characters like jesters and drunks"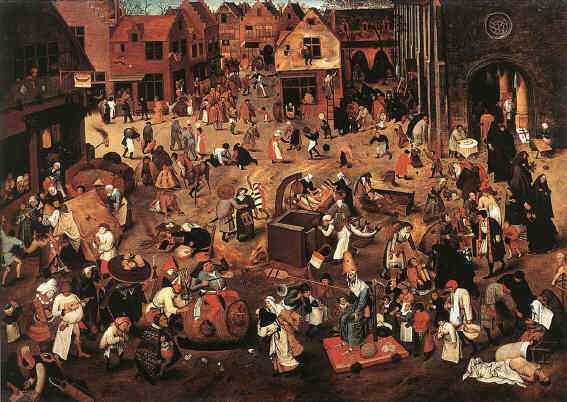 Artist: Pieter Bruegel
Title: The Fight Between Carnival and Lent
Movement: Flemish Renaissance
Location: Kunsthistorisches Museum, VIenna
6. Dialogue (DYE-uh-log)
Definition: In conversation with, or relating to
In a Sentence: "My instagrams of food are in dialogue with Wayne Thiebaud's desert paintings"
Artist: Wayne Thiebaud
Title: Cakes
Movement: Pop Art
Location: National Gallery of Art, Washington
7. Façade (fuh-SAHD)
Definition: The face of a building
In a Sentence: "The façade of the Sagrada Familia is meant to look like a cave"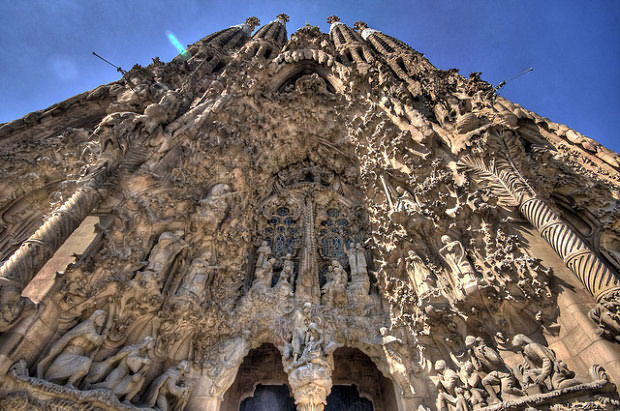 Artist: Antoni Gaudi
Title: Sagrada Familia
Movement: Surrealist
Location: Barcelona, Spain
8. Impasto (im-PAHS-toe)
Definition: A technique in which paint is laid very thickly on a surface, a method gives texture to the work
In a Sentence: "The impasto brushwork makes those fields look even more dense"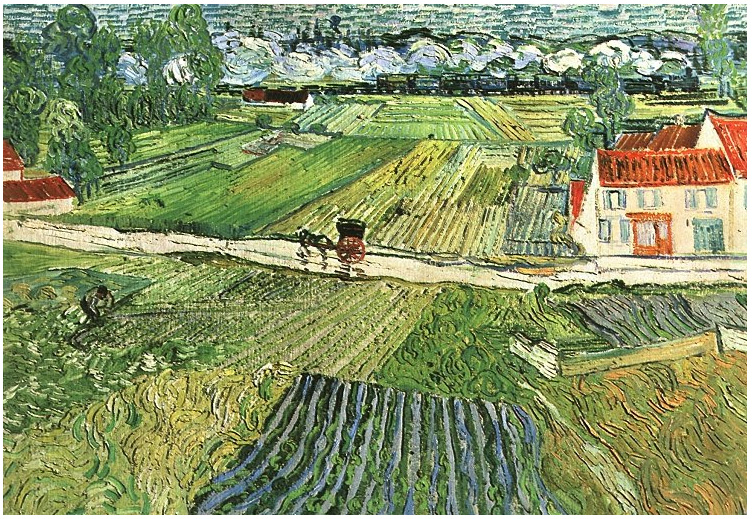 Artist: Vincent Van Gogh
Title: Landscape with Carriage and Train in the Background
Movement: Impressionist
Location: Pushkin Museum, Moscow
9. Silhouette (sil-uh-WET)
Definition: The outline of something, usually a figure
In a Sentence: "Who is that dark creepy silhouette in the back of The Scream?"
Artist: Edvard Munch
Title: The Scream
Movement: Expressionist
Location: Privately owned
10. Tonality (toe-NAL-itee)
Definition: The color scheme or variety of colors used in an artwork
In a Sentence: "The dark tonality of the Mona Lisa makes her seem even more mysterious"
Artist: Leonardo Da Vinci
Title: Mona Lisa
Movement: Italian Renaissance
Location: The Louvre Museum, Paris
There have it. Now go forth and discuss some great art with your friends. Or do what I've never had the guts to and pose as a museum guide for a group of unsuspecting tourists. I'm sure you'll make their day.
Still want me to drop some more art knowledge on you? Let me know what terms or movements you want to hear about!
Related Articles: